The Oscillator Devices Garbage Collector is a MIDI controllable expression pedal and footswitch in one device. Effects devices with expression pedal inputs or inputs for external foot switches (e.g. tap tempo on guitar pedals) can be controlled automatically by the Garbage Collector via MIDI. It can emulate either a foot switch with tip and ring or an expression pedal at both outputs. The Garbage Collector can be synced to MIDI clock, allowing time-based effects to sync to either tap tempo or LFO waveforms. The MIDI channel is adjustable and complex switching functions can be combined in presets.
Features:
Two MIDI controllable expression outputs
Up to four switches, on two TRS sockets
High voltage and AC switching on both ports (since version 2.1.0)
MIDI clock synchronous LFO waveforms for modulation of the expression function
MIDI clock synchronous switching
Multicolored LEDs for status indication
Up to 16 presets and choice of start configuration
Selectable MIDI channel
Compatible with all MIDI 1.0 compliant controllers
High-quality Neutrik sockets
Developed and handcrafted by Oscillator Devices in Germany
The Garbage Collector has two 1/4 " stereo jack sockets. As switches, the tip and ring are open and close individually to the sleeve. As an expression out, the wiper is on the tip and connected to the sleeve and ring via the potentiometer. If the expression function is activated via MIDI command, the switch is automatically deactivated. If the switch is used, the expression function is automatically deactivated.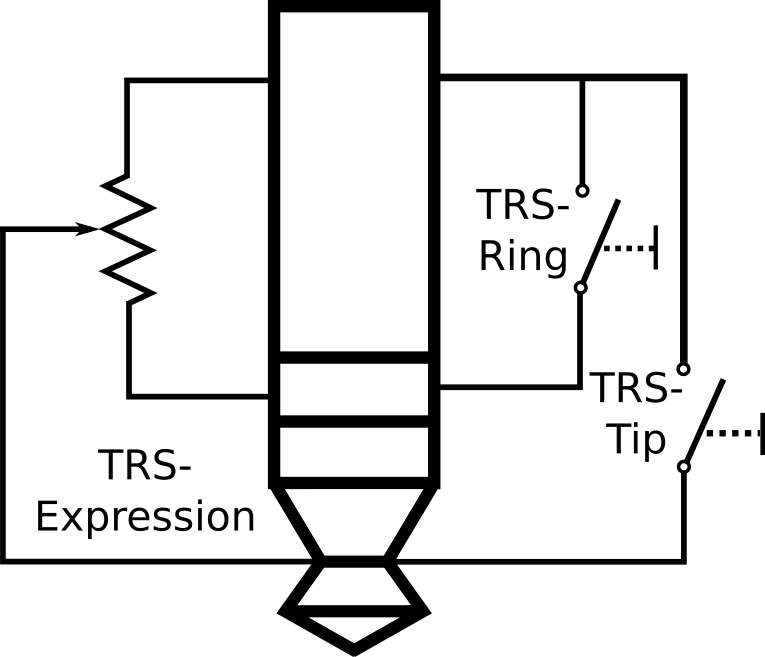 The associated LEDs make the setup easy. With the switch function, the LEDs light up whenever the contact is closed. If the LED lights up green, the tip is connected to the sleeve, if it lights up red, the ring is connected to the sleeve. When using the expression function, the LED on the heel position lights up green, gets darker towards the middle position and begins to light up red when it comes to the toe position.
LFO-Waveforms
Starting with version 2.0.2 the Garbage Collector has an internal, MIDI clock synchronous, LFO engine with three different waveforms to drive the Expression function. Choose between sine wave, square wave or sawtooth in both directions. The speed of the waveforms depends on MIDI clock, with one pass being either whole, half, quarter, eighth, or sixteenth notes. The waveforms can be further altered in starting point, amplitude and position.

MIDI connection
The MIDI sockets are assigned according to the official MIDI specification of MIDI TRS using MIDI TRS Type A, like pedals from Boss or Wampler. A 3.5 mm stereo jack plug is used. The MIDI Out socket is a low latency MIDI Thru with a latency of less than 1 ms.

Applications
External tap tempo functions of delays, tremolos and other time based effetcs sync'd to MIDI clock (e.g. DOD Rubberneck, TC Flashback 2, Walrus Monument, Boss DD-8)
Switching of overdrive pedals with more than one channel (e.g. JHS Morning Glory/SuperBolt etc., Bogner Ecstasy)
Controlling of expression functions (e.g. Electro Harmonix Pitch Fork/Deluxe Big Muff, Wampler Terraform, KMA Cirrus/Chief Disrupter, OBNE Sunlight)
LFO-Waveforms for filter pedals with expression input (e.g. Moog MF-101, EHX Blurst, Walrus Kangra)
Switching of channel/reverb/tremolo of guitar amplifiers (needs a modification, please refer to the manual)
Expression pedal multiplexing (in combination with e.g. Morningstar MC6/MC8)
Switching of special functions (e.g. Strymon FAV-Switch)
Media
---
Documentation
| Document | Version | Download |
| --- | --- | --- |
| User manual | Garbage Collector 3 (November 2022) | English | German |
| User manual | Garbage Collector 2.1.0 (July 2022) | English | German |
| User manual | Garbage Collector 2.0.2/2.0.3/2.0.4 (April 2022) | English | German |
| User manual | Garbage Collector 2.0.1 (January 2022) | English | German |
| User manual | Garbage Collector 2.0 (September 2021) | English | German |
| User manual | Garbage Collector 1.0 (May 2021) | English | German |